HER HAND IS STUPID!!
man, so i went to 7eleven today to buy a 12 pack of redbull...oh yeah i started drinking redbull again..wooh! and the stupid clerk monster says, "didn't you just buy a pack of those 2 days ago?"
damnit, i don't want to make small talk with you...i really need to go home and peeee!!! so i just tried to humor her and told her to "please hurry along this transaction".
"looks like you have an addiction. doctor told me i can't drink caffeine anymore because it gives me the shakes" she decided THAT I CARED!!
so i had to tell her yeah my doctor told me to stop with the caffeine too. so then she asks me to see how badly i shake trying to compare her stupid pudgy quivering hand next to mine...HER HAND IS SO STUPID!!! GRRRRRNGH!!!
so i had to tell her "i never got the shakes, but instead developed ulcers in my intestines GIVING ME HORRIBLE PAINS AND CAUSING ME TO POOP BLOOD FOR A MONTH!!
THANK YOU SO MUCH 24 HOUR CONVENIENT MONKEY MONSTER FOR TRYING TO MAKE SMALL TALK WITH STRANGERS WHO WANT NOTHING MORE THAN TO JUST STAND HERE AND TALK TO YOU ABOUT MY PERSONAL LIFE! YOU THINK I'M GOING TO TELL YOU, A STRANGER, MY THOUGHTS, FEELINGS, AND EMOTIONS RIGHT HERE AND NOW!?
EH!?
"
THIS IS WHY I STARTED A BLOG!! some people. honestly.
anyways, i've been on this bad scary movie kick this whole year and i finally got to rent Gingerdead Man with Gary Busey. I'VE BEEN WAITING TO RENT IT FOR 8 STUPID MONTHS!!! sooo STUPID!! hate blockbuster.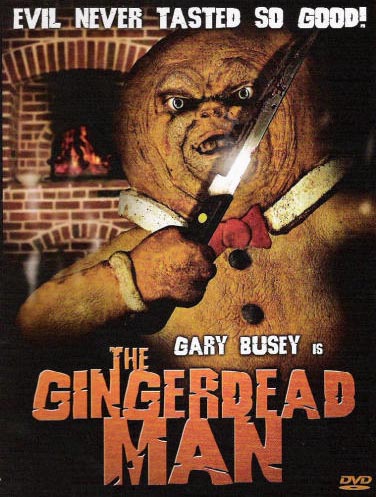 but anyways, i'm going to spoil the movie for everybody who hasn't seen it yet right now in a quick summary:
BLAM!! gary busey shoots everybody in a bakery that he's robbing except for the daughter of the baker who owns the place. in the next scene the girl reads in the newspaper that Gary was executed and his ashes were sent to his mom. then his mom delivers a box of recipes to make gingerbread cookies that contain Gary's ashes to the baker. and the secret ingredients needed to make Gary come back to life are human blood and electricity. they're not included and his mom needed to catch a sale going down at Target. that place is so hip!
so then the girl and this guy starts making the cookies. after pouring the ingredients into a big pot the guy accidentally cuts his hand while he's all the way across the room no where near the mixture, and blood is running everywhere. the good employee that he is to make sure that no blood is getting all over the floor holds his hand over the pot with the ingredients in it making sure every last drop of blood is contained within that pot. spreading HIV via cookies is what REAL men do.
"OH NO YOU ARE CUT! DO YOU NEED THE HOSPITAL OR STITCHES!? I AM ASKING YOU QUESTIONS!!!" the girl says something along those lines.
"NO I AM TOO MUCH OF A MAN WHO BAKES COOKIES ALL DAY LONG TO GO TO THE HOSPITAL. I WANT TO BE SPIDERMAN WHEN I GROW UP."
"OK! LETS KEEP MAKING THESE COOKIES!! WHAT BLOOD?! I DON'T SEE ANY BLOOD IN THE FLOUR! YOU'RE STUPID, I LIKE YOUR NIPPLES!"
and so they mix the gingerbread goo together and it turns all pink because of the blood that's in it, but nobody cares, they're running a very successful bakery business SHUT UP!! then the girl baker sends the guy home and starts cutting out this gingerbread man shape out of the dough.
it looks just like Gary Busey. then she puts the gingerbread cookie into the oven and it begins to bake and it turns into what looks NOTHING LIKE GARY BUSEY.
then while the cookie is baking, this half naked girl comes over, "HI LET'S HAVE A FIGHT! I WANT TO RUB CREME ALL OVER MY BUTT HEE HEE HEE GIGGLE GIGGLE!! I AM A GIRL! DO YOU LIKE PIZZA?"
so they fight and accidentally hit the electric box which causes electricity to run into the oven and bring Gary Busey back to life as the Gingerdead man....OH! I JUST GOT IT!! GINGERDEAD MAN!! I JUST GOT IT!! a play on words. how clever!! i'm so smart sometimes, yes i really think so. my mom is proud.
then the ginger
dead
man runs out of the oven and is being a good actor and i don't remember much else about the movie except for the end when spiderman jumps down from the window and bites Gary Busey's head off.
anyways, if i had to rate that movie on a point scale from 1-10, 10 being the highest and 1 the lowest, i'd give Gingerdead Man a "THUMBS UP AWESOME! LET'S WATCH IT AGAIN!!!"